Real Estate Investing: Finding Returns In A Low Yield Environment
Questions I often get asked by individual investors:
Where should I put my money?

Where can I get a good return?

And are there any opportunities in the market now?
Option A: Miami Condos
Some of the people asking me about investments have owned in condos here in Miami. As it stands right now, the Miami condo market has two disturbing trends: condo transaction volume keeps dropping and aggregate value of condo inventory keeps rising.
Until these trends reverse, I cannot recommend that individual Miami condos be purchased purely as investments.
The only real opportunity to profit off of condos is by purchasing near the bottom of the cycle or very early in an uptrend. Miami real estate is still very volatile, and you can make money by waiting for compelling prices and net cap rates. Condos have significant carrying costs (maintenance and property taxes), are not very liquid, and have high transaction costs. So you really have to make sure you are getting in near the bottom to justify holding them.
Option B: REITS
REITs obviously offer more diversification than owning individual properties and are far more liquid.
What needs to be considered:
REITs have a strong positive correlation with the stock market.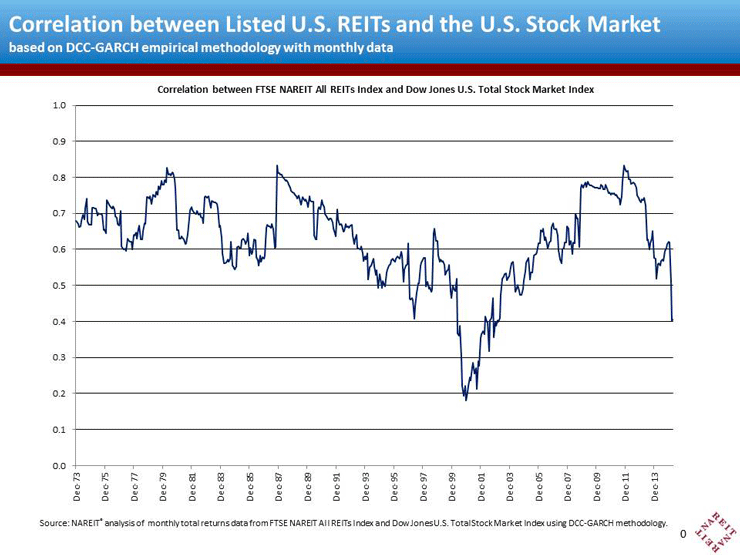 Since 1972, REITs have generally stayed between a 0.56 and 0.72 correlation to the US stock market. The correlation low was around 2000, when the US stock market was in the midst of the dot com boom. The irrationality of a tech-bubble stock market resulted in a short lived, very low REIT correlation.
Why is this positive correlation to stocks important to keep in mind now?
US stock market valuation multiples (such as the Shiller PE and the price:sales ratio) are at levels that have always been followed by losses and very low returns over the next ten year period.
If we have a dip in the stock market, REITs will be affected.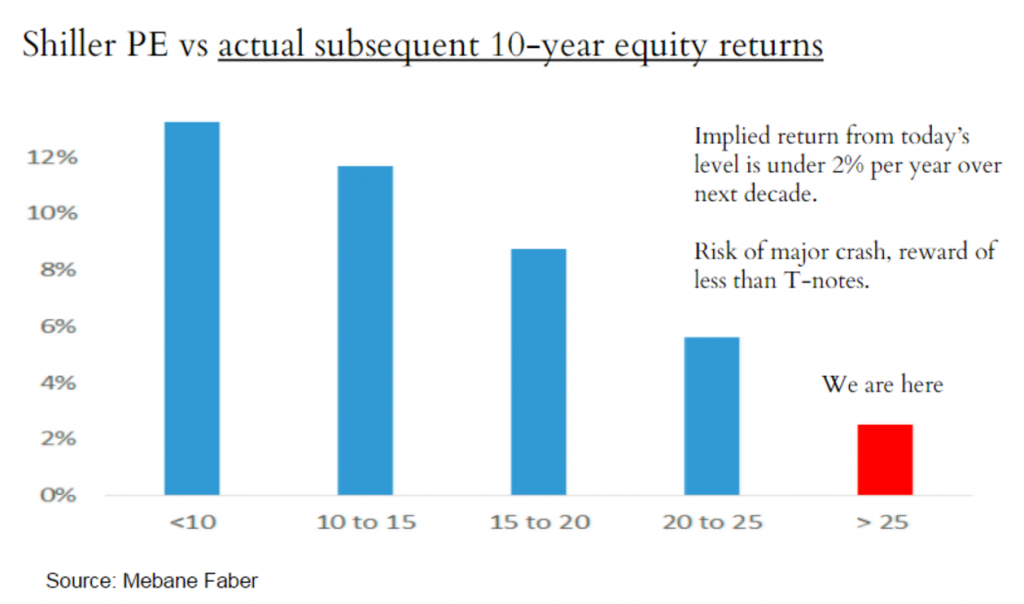 Option C: Treasury Bonds
The 30 year treasury bond is currently paying 2.8%.
This is obviously not a great return.
While treasury bonds are liquid and safe, they do not provide protection against inflation.
Should inflation rise at all while you hold bonds, you'll be out of luck.
Corporate bonds are providing slightly higher returns, but with greater risk.
Option D: Income Producing Commercial Real Estate
It is still entirely possible to get a 5% or even 6% cap rate with solid, income producing commercial real estate in Miami.
While less liquid than bonds, you get a significantly higher return. And should inflation go up, you will be protected as rents will most likely increase.
Furthermore, purchasing self-standing commercial properties opens you up to the possibility of benefiting from Miami's continuous growth and expansion. You stand to potentially benefit from future up-zoning as well as acquisition by developers looking to put together multiple parcels.
Ask yourself: where are there shortages in the market?
While the Miami condo market is suffering a decline in demand, the city has a severe shortage in affordable and Section 8 housing.
With Section 8 housing in particular, there is excellent opportunity to get some fantastic returns. A multi-family structure converted to Section 8 would generate stable rent, direct-from-the-government.  Section 8 rent is, generally speaking, above market rates and the tenants are single moms who don't want to move. It is quite possible to get an 8+ Cap with Section 8 housing in Miami. And I cannot emphasize how much better it is to get rent money from the government rather than having to collect from individual tenants!
There are excellent returns to be found in the Miami real estate market today.
You just need to know where to look.
Contact me for further information.