Miami Real Estate
Download Special Reports
Analytics

Miami

Miami Beach Condos: state of the market 2020

Miami Beach enters 2020 with sales volume below 2010, the continuing decline of all-cash buyers and with months of inventory hovering near highs. Transaction volume is down 37% since 2013, and 100% of that drop is due to the loss of cash buyers. Cash was king; the current cycle catered to and was driven by destination money. The average 2019 resale for a condo built post 2000 was $1.6M. If Miami Beach wants full time residents, the city needs to get ahead of this data by removing obstacles that stand in the way of price-attainable development.
Analytics

Miami

City of Miami Beach, The Missing Middle Report, February 2018

In February 2018, Ana Bozovic gave a presentation the city of Miami Beach's land use committee. The presentation is entitled "The Missing Middle." It charts long term trends in Miami Beach's population and housing stock. The results are clear: Miami Beach has added virtually no new housing stock for middle class residents and has a housing market increasingly dependent on outside money.
Analytics

Miami

Supply and Demand: Miami area condo market through Q3 2019
Supply and Demand Disconnect
Inventory has steadily risen across market segments, all while transaction volume has dropped off. Higher price points are the worst offenders. The Miami $1M+ market saw a 147% increase in supply since 2013, while sales dropped 32% in the same period.
Transaction volume below 2010
Miami Beach and Miami condo transaction volume remains below the post-recession numbers we saw in 2010. For most market segments transaction volume peaked in 2013, and has since been dropping. Recent changes to SALT deductions have not offset the volume decline.
Analytics

Miami

Special Report: Miami Condo Inventory, start of 2018

This report charts months of Miami condo inventory, going back to 2007. The charts show that the Miami condo market is at all-time high levels of inventory. Some prices points have almost twice as many months of inventory as during the last downturn.
Analytics

Miami

Long term trends, Miami-Dade condo report 2017

This report shows all key Miami condo market metrics, charted back to 2006. The data indicates that we are at various extremes in the condo market cycle. Also indicated is a clear bifurcation between locally supported and outside money dependent price segments.
Miami Beach 2020 Real Estate Report
Release at the Famous 5th St Gym
Date & Time
Saturday, Feb 1, 2020 | 7PM - 10PM
Location
5th St Gym, 1019 5th St, Miami Beach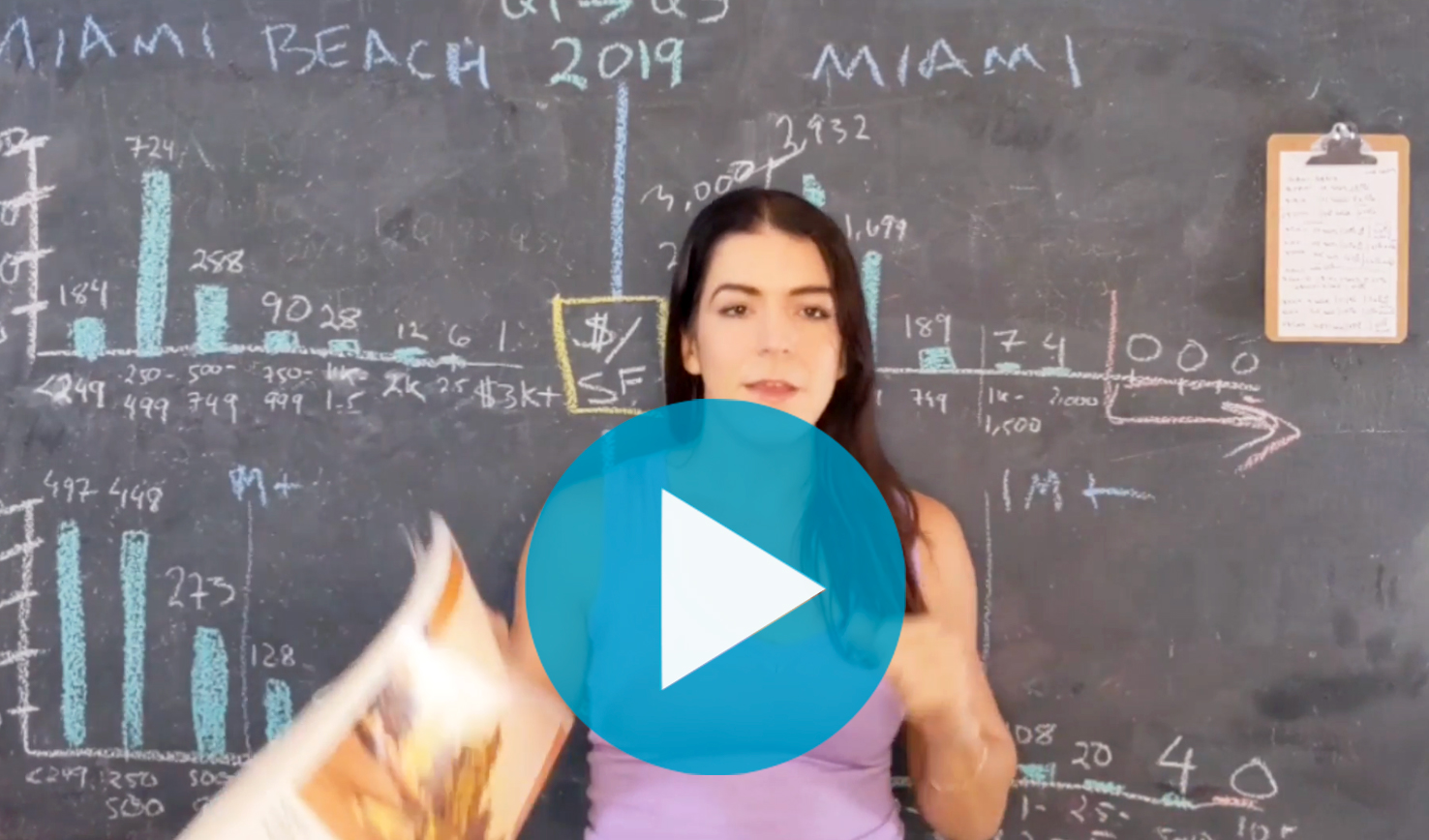 November 18, 2019
There is a fundamental disconnect between supply & demand in the Miami and Miami Beach condo markets. Inventory has steadily risen across market segments, all while transaction volume has dropped off. Higher price points are the worst offenders. The Miami $1M+ market saw a 147% increase in supply since 2013, while sales dropped 32% in the same period