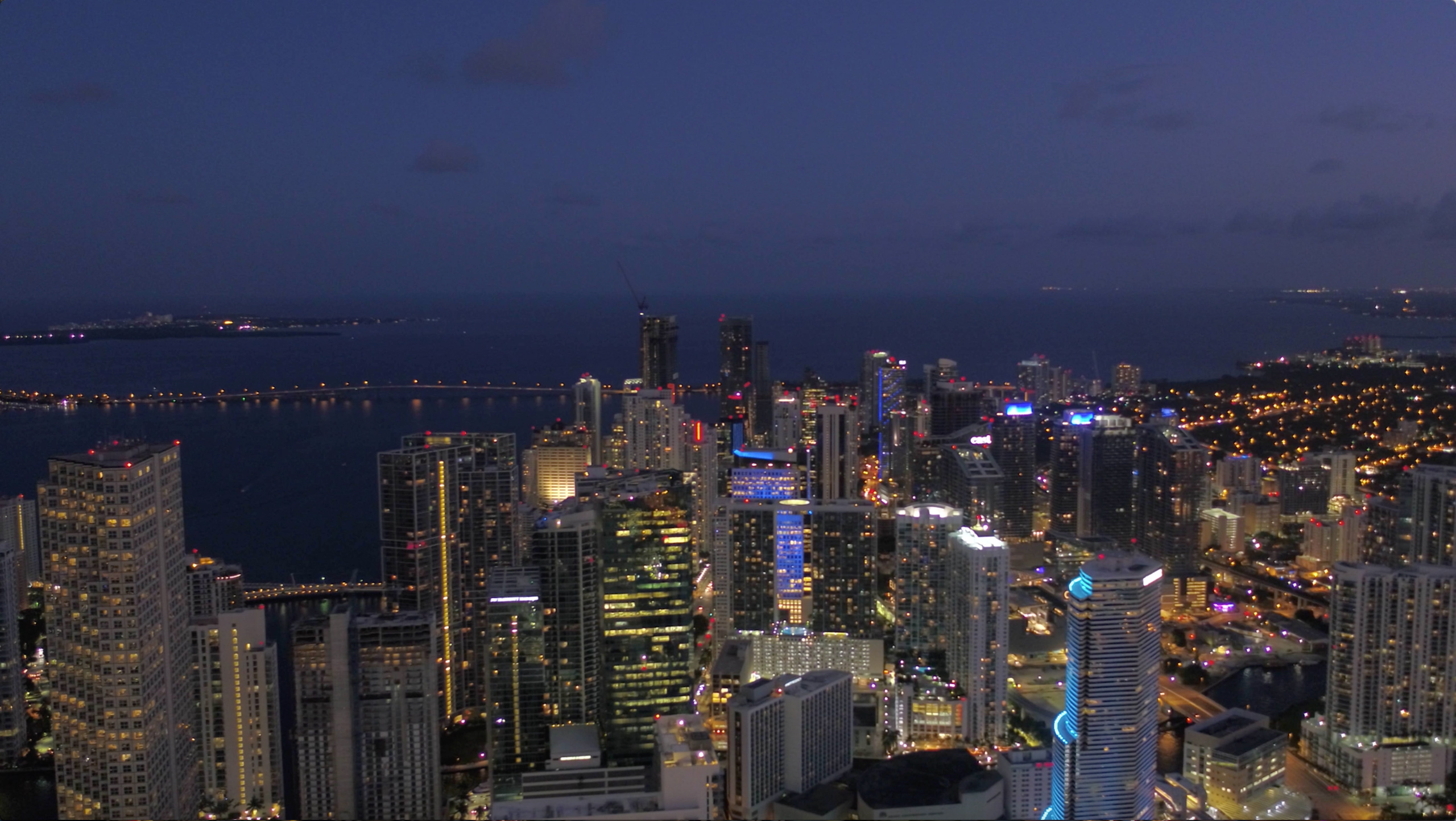 Special situations in Miami real estate,
supported by cutting edge analysis & local insight.
Acquisition & disposition of assets
SERVICES
Independent market research
REPORTS
Miami Real Estate
Download Special Reports
Analytics

Miami

Supply and Demand
Miami area condo market through Q4 2019
Extreme Disconnect
There is a fundamental supply & demand disconnect in the Miami area luxury condo market. Since Q4 2013, the Miami $1M+ condo market saw a 178% increase in supply. Demand decreased 18% in the same time frame.
Cash Was King
This last cycle was fueled by cash buyers. At 2013 volume highs, Miami Beach was 76% all cash and Miami was 70%. In 2019 those numbers were 61% and 42%. The high % of cash means there is low debt service pressure, which may be why we are seeing listings languish.
Ana's comments:
The Miami area condo market is not a magic unicorn that will defy supply and demand fundamentals. There are fundamental disconnects in this market, and the high percentage of all cash buyers may be delaying the clearing process. This market is vulnerable to an external trigger event.
Analytics

Miami

Miami Beach Condos: state of the market 2020

Miami Beach enters 2020 with sales volume below 2010, the continuing decline of all-cash buyers and with months of inventory hovering near highs. Transaction volume is down 37% since 2013, and 100% of that drop is due to the loss of cash buyers. Cash was king; the current cycle catered to and was driven by destination money. The average 2019 resale for a condo built post 2000 was $1.6M. If Miami Beach wants full time residents, the city needs to get ahead of this data by removing obstacles that stand in the way of price-attainable development.
Analytics

Miami

City of Miami Beach, The Missing Middle Report, February 2018

In February 2018, Ana Bozovic gave a presentation the city of Miami Beach's land use committee. The presentation is entitled "The Missing Middle." It charts long term trends in Miami Beach's population and housing stock. The results are clear: Miami Beach has added virtually no new housing stock for middle class residents and has a housing market increasingly dependent on outside money.
Next Event: Q2 2020 Corona Score Card: What's really happening in the Miami real estate market?
Date: TBD. Location: Zoom. Email Ana for details.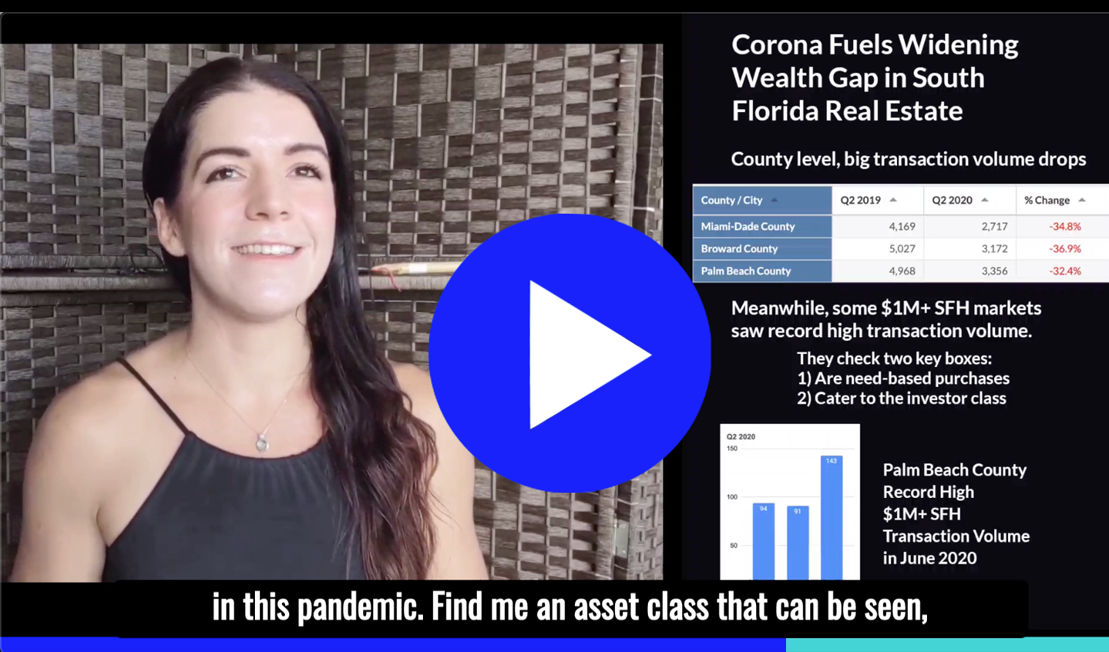 July 21, 2020
There is a fundamental disconnect between supply & demand in the Miami and Miami Beach condo markets. Inventory has steadily risen across market segments, all while transaction volume has dropped off. Higher price points are the worst offenders. The Miami $1M+ market saw a 147% increase in supply since 2013, while sales dropped 32% in the same period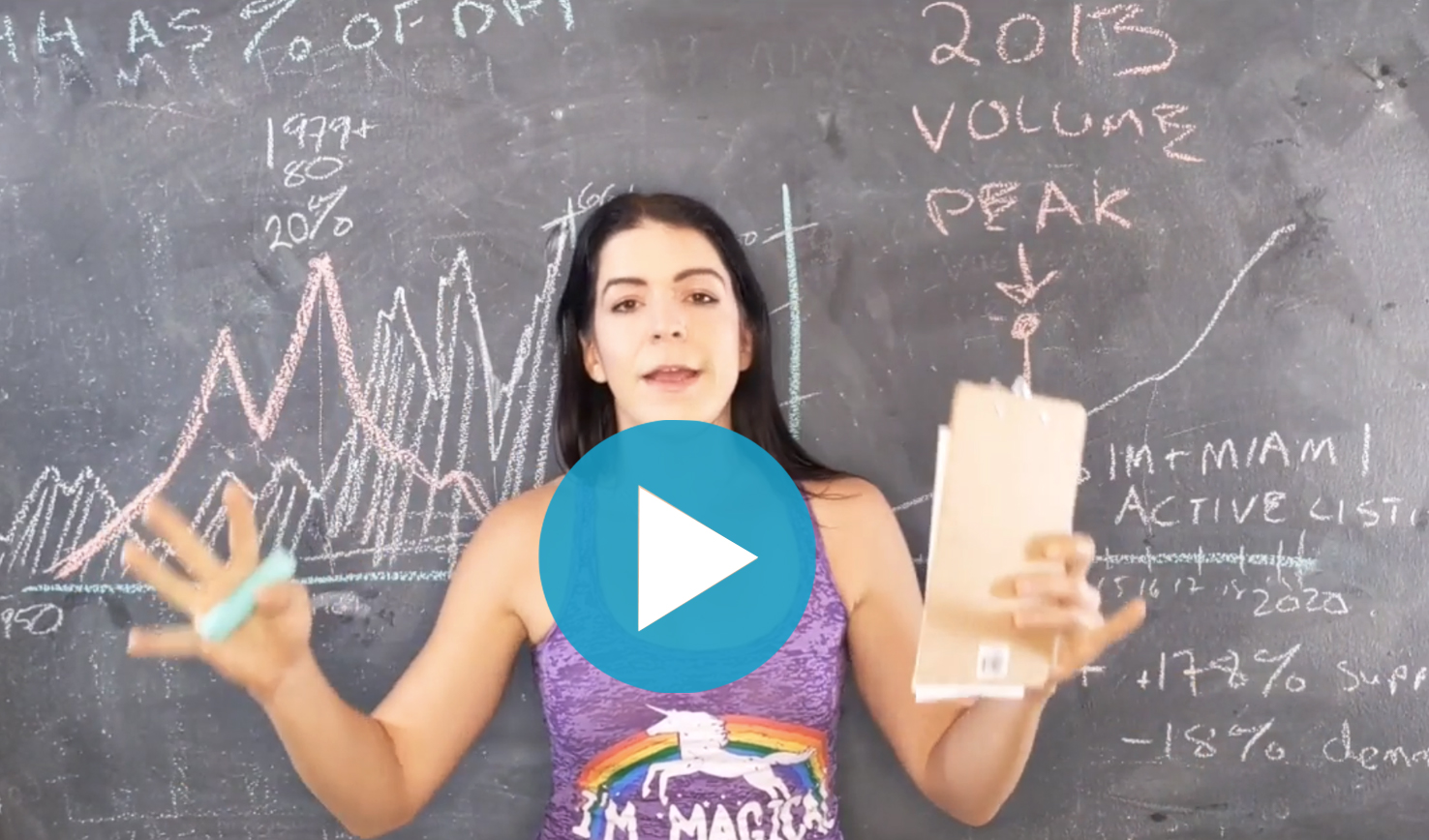 March 4, 2020
There is a fundamental disconnect between supply & demand in the Miami and Miami Beach condo markets. Inventory has steadily risen across market segments, all while transaction volume has dropped off. Higher price points are the worst offenders. The Miami $1M+ market saw a 147% increase in supply since 2013, while sales dropped 32% in the same period