Special Real Estate Report: Miami Condo Inventory
Miami Condo Inventory Is At All Time Highs:
Methodology:
All data from the Miami MLS. Rate of sales determined by a six month trailing volume average. Data does not include pre-construction inventory or pre-construction sales (except for the few that have been entered in the MLS). Data is through Dec 31st, 2017.
Purpose of special report & what this all means:
Months of condo inventory in Miami-Dade is at all time highs. At price points past $325K, months of inventory far exceeds the build during the previous market correction. At $1M+, citywide there is almost twice as much inventory as in 2010. The inventory buildup is not spread evenly; some neighborhoods have more than twice as much inventory as in 2010. Various neighborhoods are also seeing 100+ months of inventory starting at $1M asking prices. We know what happened to condo prices in Miami in the last cycle when there was a lesser inventory buildup. This is a market to closely watch.
At this time, there are almost twice as many months of inventory citywide as there were during the last market crash. Last time, it took prices 50% lower than where we are today to clear half as much inventory as we have today. Either a giant new wave of buyers finds an appetite at today's high prices, or prices will have to fall to bring in new buyers. Which seems more likely?
Months of Miami condo inventory, start of 2018 - Miami Beach & surrounding neighborhoods
The infographic shows the extent of the condo build up across various popular Miami neighborhoods. Neighborhoods include: Mid & North Beach, South Beach, South of 5th, Fisher Island, Edgewater, Downtown Miami, Brickell and Coconut Grove.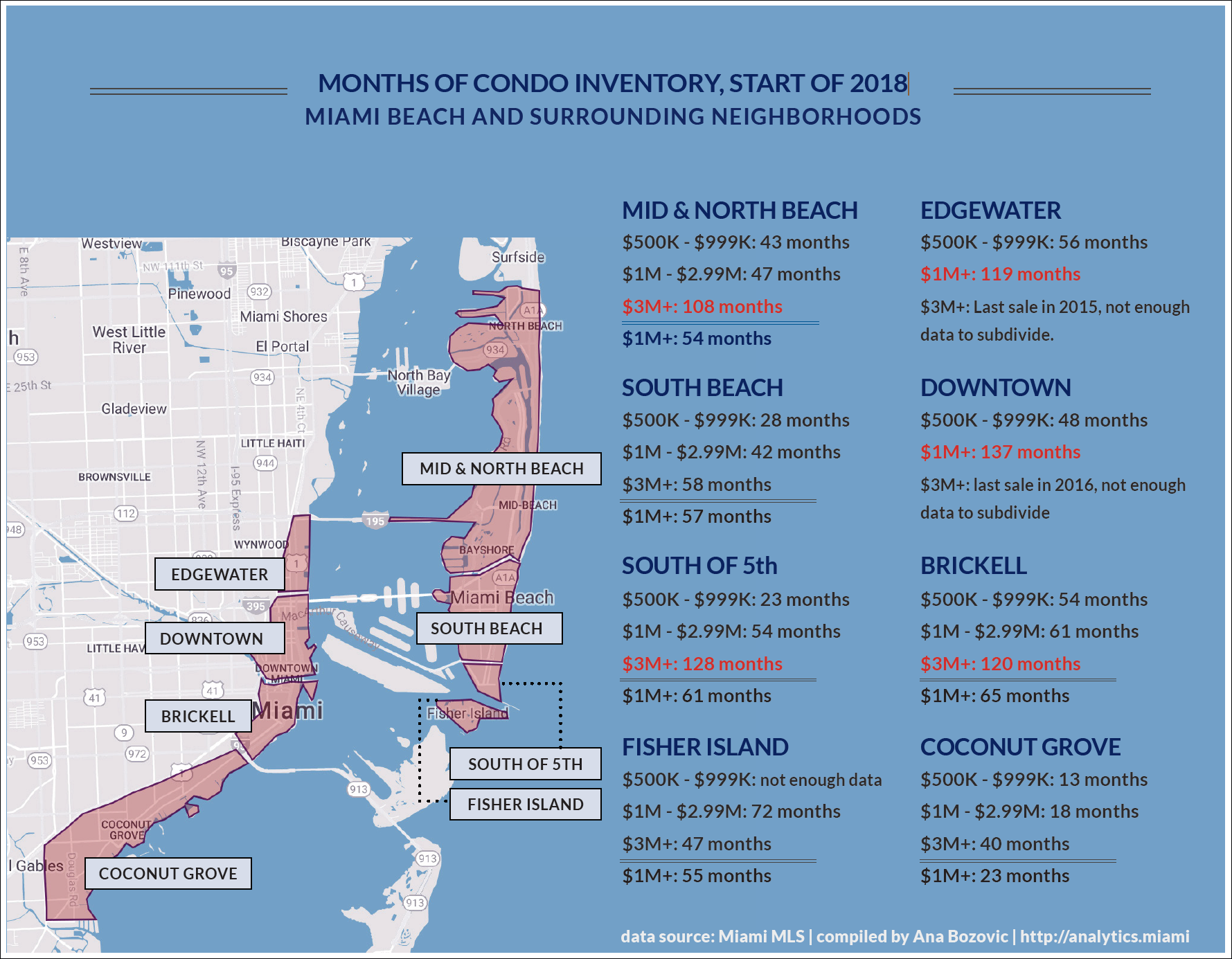 $200,000 - $325,000
Locally supported market segment, this is the only segment not at inventory all-time highs.
Miami is a divided market
Markets that depend on buyers from outside the area continue to suffer, while local buyers are still plentiful.
The condo market slowdown starts at about $325K. Price points below $325K are supported by local demand and transaction volume is at all-time highs. Local condo demand starts to wane significantly at prices lower than even $500K. At $500K we start to see a significant drop-off in transaction volume. Past $1M the lack of outside buyers is a major factor and there is currently 50 months of inventory.
$200K - $325K Miami condo price range -> the only segment with transaction volume growth.
Miami is experiencing steady population growth, and the $200K - $325K price range caters to local demand. All other price ranges are seeing steady decreases in transaction volume. Read my Miami Condos State of the Market Report for a deeper look at the condo market.
All Miami condo price points higher than $325K have record high months of inventory and steadily decreasing sales volume.
Months of Inventory: Miami Condos, $325,001 - $499,000.
Months of Inventory: Miami Condos, $500K - $999K.
Months of Inventory: Miami Condos, $1M - $2.99M.
Months of Inventory: Miami Condos, $3M+
We have just begun to see price reductions in the Miami condo market.
There is a steady increase in the discount rate and an unrelenting climb in active listings.
Contact me for: off-market hotel deals, land deals and hotel marketing.
I have one of the largest private databases on Miami hotel transactions.