Miami Condo Bubble: The cash buyer is disappearing
The early 2000s boom was fueled by liar loans, but this cycle was fueled by the cash buyer.
Miami Beach condo transactions have declined for 4 straight years. 1,145 fewer condos sold in 2017 than 2013, a 38% drop.
91% of that is from the disappearance of the cash buyer.
The all-cash buyer is disappearing as FinCEN is expanding the Geographic Targeting Orders (GTOs) for foreign buyers. Meanwhile, higher lending standards, low local incomes, and rising interest rates mean that debt-supported purchases aren't picking up the slack.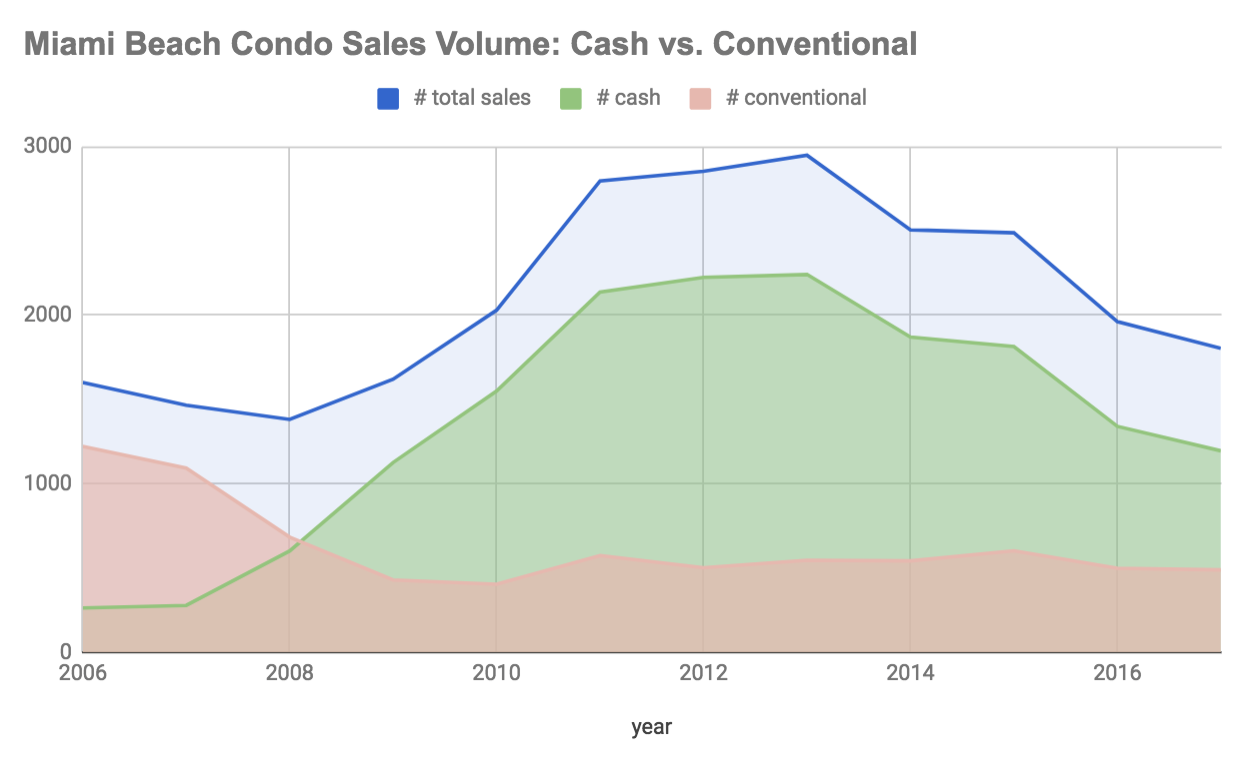 We are late in the credit cycle, and interest rates are going up
As the cash buyer is disappearing, debt is getting more expensive. The Miami condo market will not benefit from conditions favorable to financing. It is debatable whether a real estate market like 2005 or 2015 could ever have been supported by conventional, full-documentation mortgages, as Miami's household income is low compared to its real estate prices. Record low fixed rates were available at the peak of the market for those with the ability to get a loan, but now rates are rising, and a flattening yield curve suggests that banks are tightening credit.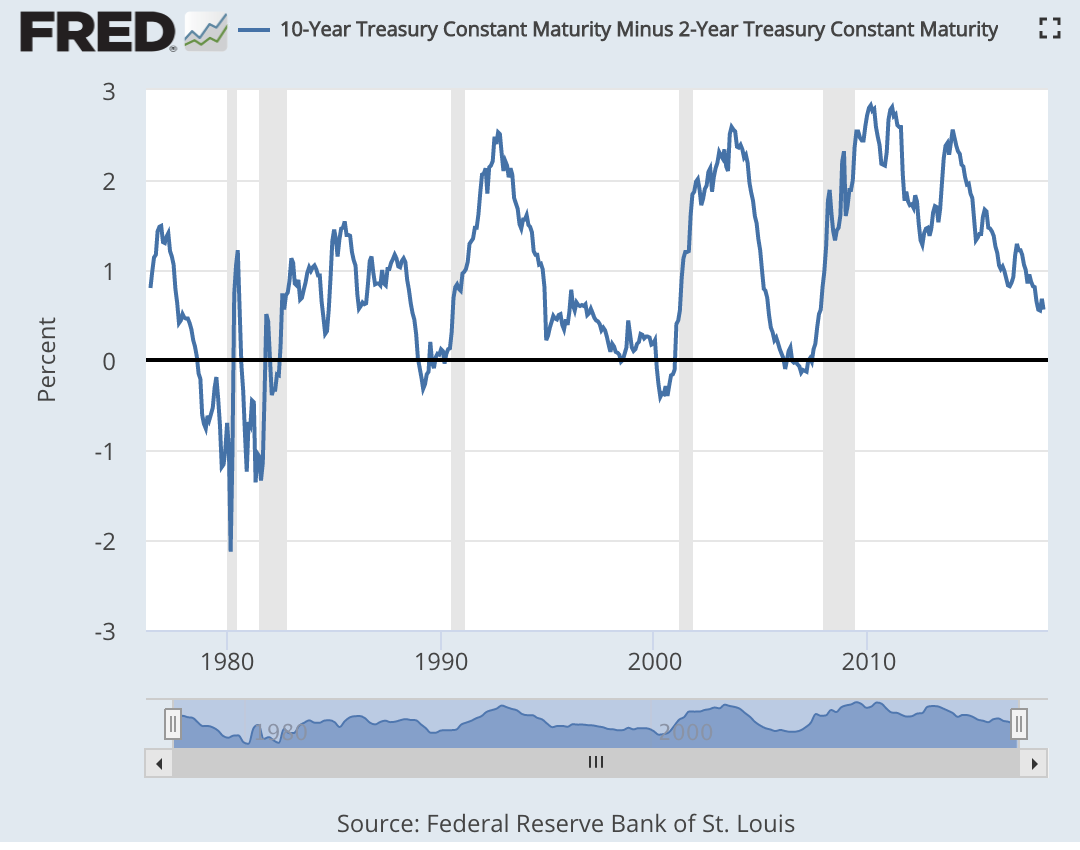 Flattening yield curve (rising short-term rates relative to long-term). Vertical bars show recessions. Click to enlarge.
What this means for the Miami condo market
Months of condo inventory in Miami-Dade is at all time highs. Miami is a bifurcated market, with locally supported price segments performing far better than higher price points. At $1M+, citywide there is almost twice as much inventory as in 2010. Full report on the Miami-Dade condo inventory build-up here >
Where demand goes, prices will follow.
Demand in the upswing of this current cycle was driven by the cash buyer, who came to dominate the market during the foreclosure crisis and went on to fuel the rebound. It's plain to see that the accumulation of inventory is due to the loss of cash buyers, as the number of conventional purchases using financing has been relatively steady since 2011.
FinCEN and the expansion of GTOs
The Financial Crimes Enforcement Network (FinCEN) enacted Geographic Targeting Orders (GTOs) in 2016. Simply put, the GTOs require title companies to reveal the natural persons behind shell companies purchasing high end real estate. You can read more about GTOs on fincen.gov.
Initially covering properties purchased in Manhattan and Miami-Dade, the program has steadily expanded. It now applies to all of New York city, Palm Beach County, Los Angeles County, San Diego County, Honolulu, and Bexar County (San Antonio).
In 2017, FinCEN reported that 30% of covered transactions were flagged as being somehow suspicious.
While the downturn in Miami condo transactions started prior to 2016, it is reasonable to think that the GTOs are a deterrent to overseas cash buyers. The GTOs keep expanding, and when faced with the threat of a Suspicious Activities Report, foreign cash buyers may decide to make their purchases elsewhere. High end sales are hurting in NYC as well as Miami, and FinCEN scrutiny may be part of the reason.
Contact me directly for off market deals.